Center For Capital Market
Centre of Excellence NSE Certification In Financial Markets (NCFM) In Collaboration With National Stock Exchange NSE)

NSE promotes financial literacy and skill oriented financial markets courses. NSE has also introduced an online examinations system for testing and certification called
NSE's Certification in Financial Markets
(hereinafter called as
NCFM
). NCFM is an online testing system, a revolutionary concept in administration of examinations and the only one of its kind today in the country. It tests the practical knowledge and skills required to operate in the financial markets in a secure and unbiased manner and awards certificates based on relative merits. A critical element of the financial sector reforms is the development of a pool of human resources having right skills and expertise in each segment of the industry to provide quality intermediation to market participants. In 2016, the consolidation of the education business under NSE Academy became the wholly-owned Subsidiary. NSE Academy Certification in Financial Markets, or NCFM, program is an online testing and certification program that tests the practical knowledge and skills required to operate in the financial markets. The NCFM program operates on our intranet and is administered through our designated test centers located across India.
In order to meet out the industry requirements, the Department of Management Studies Sri Sai Ram Engineering College, Chennai has established Centre of Excellence – NSE Certification in Financial Markets (NCFM) in collaboration with National Stock Exchange (NSE) in the college. The centre would focus more on Institution-Industry-Interaction on capital market related training and consultation.
Centre of Excellence – NSE Certification in Financial Markets (NCFM) Objectives:
To enhance the students by providing lively insight of the current practices in the capital
To provide hands on experience by providing a online platform .
To assist faculty to enhance their theoretical knowledge by giving them a live
To assist faculty for providing job oriented training for
Enhance job oriented skill levels among students
Curriculum to Cover:
Introduction to Financial Markets
Derivatives
Trading System
Macro Economics
Fundamental Analysis
Technical Analysis
Market Operations
Discussions on Financial Newspapers and Journals
Practical Training
Facilities
| FACILITY | PURPOSE | CAPACITY |
| --- | --- | --- |
| Auditorium | Lecture & Training | 120 |
| Colloquium | Conference & Discussion | 120 |
| Lab | Practical Exposure | 80 |
Contact Faculty Details:
Course details Batch 1 (2015-17)
No of students trained – 45
SIMS Organized Online Faculty development Programme on NSE SOFTWARE by Mr. Vinodh James on 3rd March 2022.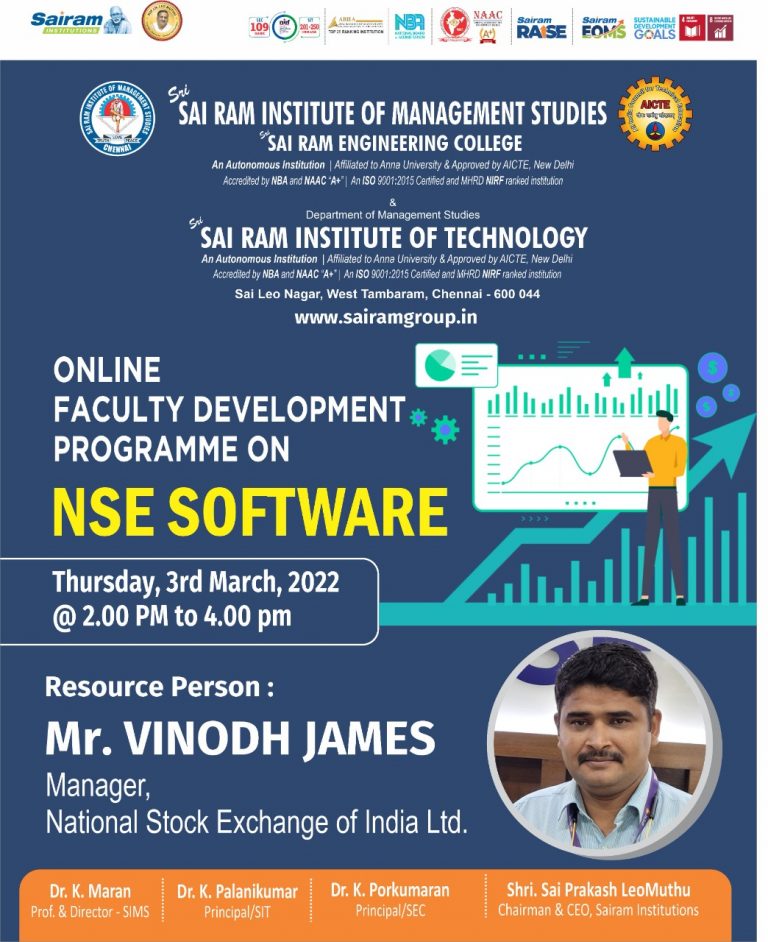 ---
In collaboration with Kotak securities and NiSM organized a Training Programme for our students on Financial Education for Young Citizens from 09.01.22 to 13.01.2022 by Mr. M.Jeyaprakash NISM approved Trainer
Sims organized webinar on Investment Analysis on 25.03.21 Mr.Bandam Srinivas Assistant Vice president NSDL- National Securities Depository Ltd Chennai Addressed the MBA students.
---
SIMS organized webinar on Technological Advancements in Financial Sectors, Ms. Leela Varadharajan, Finance Planner and Professor, Oregon State University, USA addressed the students.

Ed club & mhrd institutions innovation council along with sri sairam institute of management studies & sri sairam engg.college conducted seminar on stock market operation skills. Mr.jayaprakash from finserve addressed the students.
---